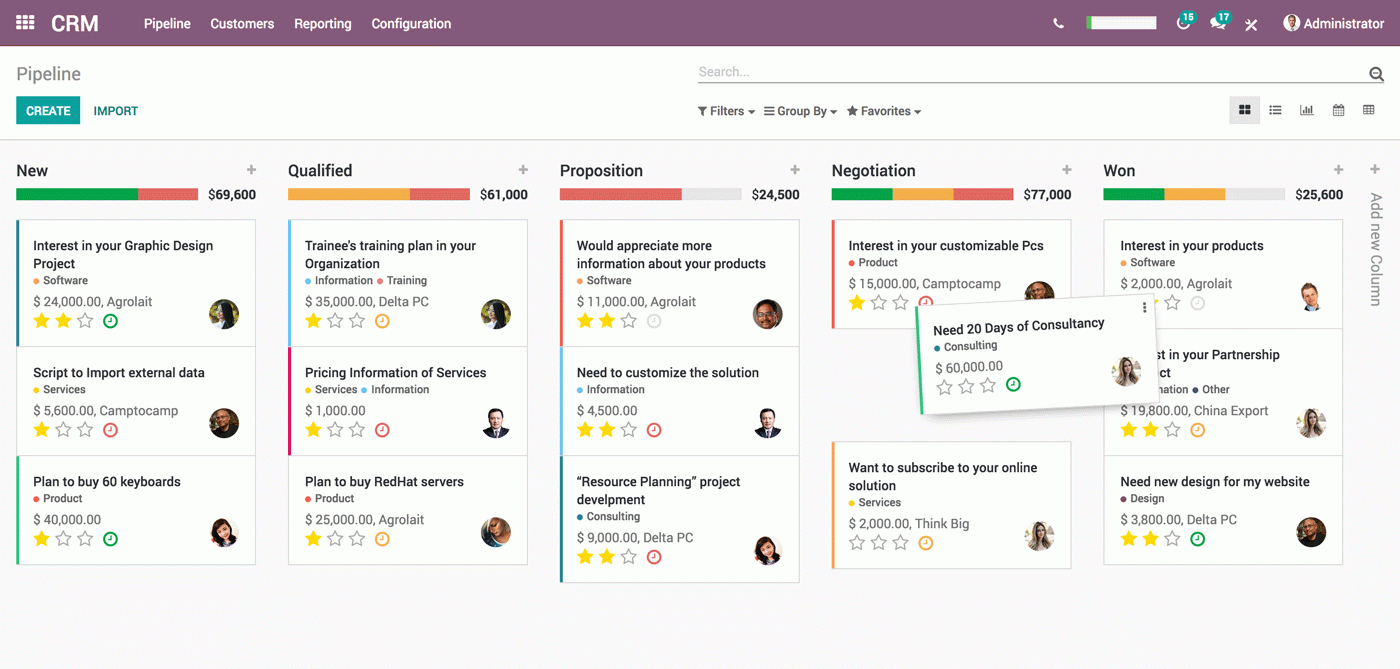 Comprehensive business process management
From leads to opportunities to quotes and invoicing, Odoo is a modular solution that can meet all your needs for tracking and monitoring customers and business processes.
Plan your activities according to your sales program: phone calls, meetings, emails, quotes, etc… and get accurate forecasts thanks to real-time diagrams and flows, which can be shared with the various teams. And to complete the picture Odoo also provides a real-time internal messaging system to communicate directly with the people in your team.
From quotation to electronic signature
With Odoo you can send professional, clear and complete quotes to your potential customers. Thanks to the drag&drop function you can add product descriptions, images and additional information.
Quotes can be converted into sales orders with a simple click or thanks to the electronic signature the customer can sign directly online. Automate operations and focus on customer relationships.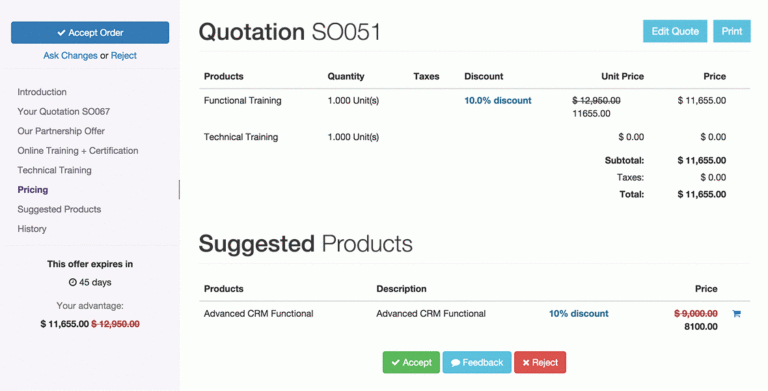 Lots of integrated modules

CRM
SALES PIPELINES,
ANAGRAPHICS,
PREVISIONS AND REPORTS

Subscriptions
MEMBER MANAGEMENT
AND RECURRING BILLING WITH AUTOMATIC PAYMENTS

Sales
QUOTES,
CONTRACT MANAGEMENT,
ELECTRONIC SIGNATURE

Rentals
RENTAL ORDERS, SCHEDULE,
DELIVERY, RETURN
AND BILLING

Selling point
CONFIGURAZIONE DEL NEGOZIO ONLINE/OFFLINE E INVENTARIO INTEGRATO
An integrated management: Odoo ERP
The modules CRM, Sales, Point of Sale, Subscriptions, Rental, Amazon Connector allow to manage in an integrated way all the part related to sales, but it doesn't end here! Odoo is an ERP (Enterprise Resource Planning) software with several integrated applications to manage in a coordinated way all the activities of different business areas from accounting to Human Resources, but also the management of Warehouse and production.
Moreover, thanks to the Marketing modules, it is possible to manage not only the website or E-commerce but also the lead generation campaigns, where every new lead or sales opportunity is automatically registered in the CRM.
Do you need further informations? Contact us.