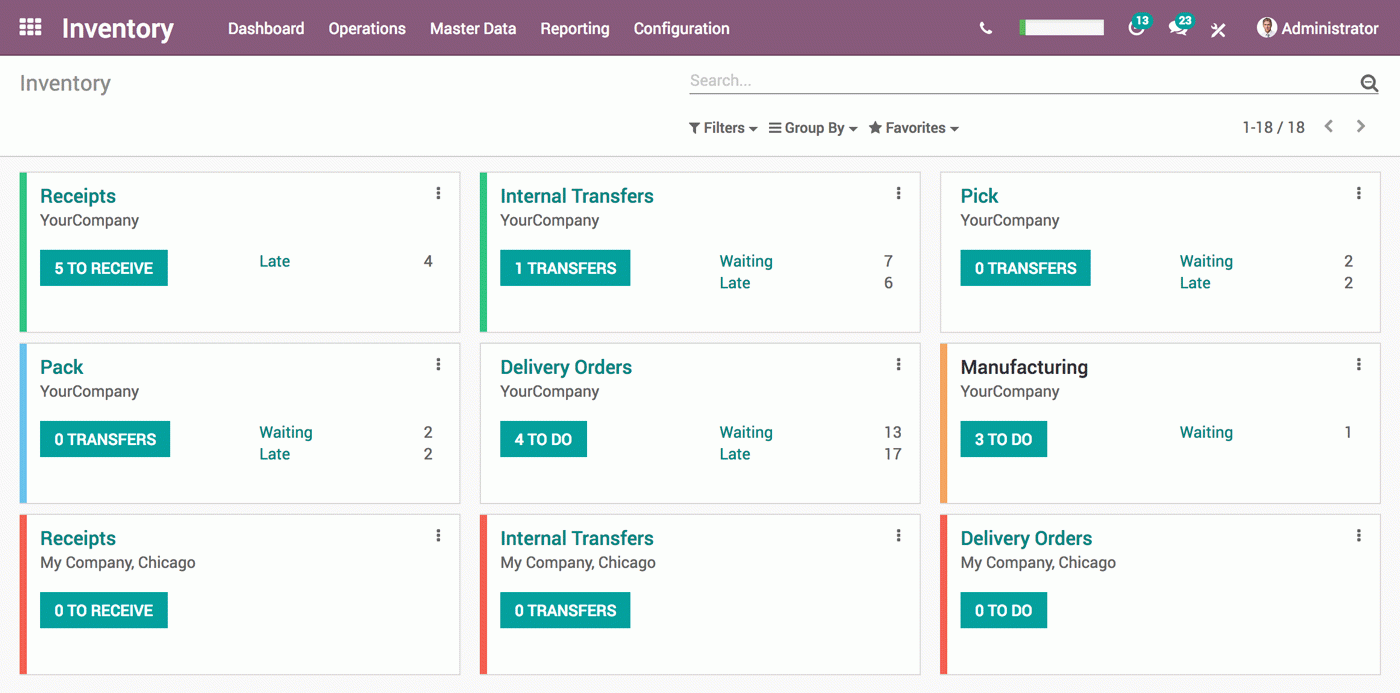 Odoo offers integrated warehouse management with tracking of every product movement from purchase to stock placement (taking advantage of the most efficient storage method), to sales order. Control of all movements of lots or serial numbers up or down, from any point in the supply chain.
Picking, BOM, stock breakage rules, routing everything is easily configurable. From the dashboard it is possible to keep under control in real time the global management of the warehouse, the incoming and outgoing movements and the real and expected stock.
Management suppliers and purchase orders
A single Odoo instance is enough to synchronize operations between different companies or warehouses and thanks to the functionality for multiple quote requests you can quickly find the best offer.
With the integration between warehouse and purchasing module the creation of sales orders, sharing customers, suppliers and products, as well as the management of invoicing for all companies is simple and fast.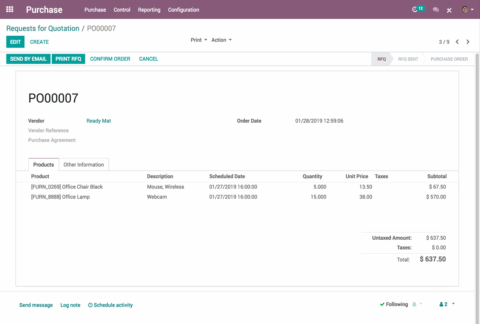 Lots of integrated modules

Inventory
STOCK MANAGEMENT, TRACEABILITY AND STATISTICS

Purchases
MANAGEMENT OF SUPPLIERS, PURCHASE ORDERS, LISTS AND AVAILABILITY

Manufacturing
MES, MAINTENANCE,
PLM AND QUALITY

Maintenance
ORGANIZATION AND AUTOMATION OF MAINTENANCE

PLM
PRODUCT LIFE CYCLE
MANAGEMENT

Quality
PLANS AND CONTROL POINTS, PPAP, SPC, PFMEA, ROUTING
An integrated management: Odoo ERP
The modules Inventory, Production, PLM (product lifecycle management), Purchasing, Maintenance, Quality allow to manage in an integrated way the warehouse and the production, but it doesn't end here! Odoo is an ERP (Enterprise Resource Planning) software with several integrated applications to manage in a coordinated way all the activities of the different business areas from accounting to Human Resources, but also the management of customers and offers.
Moreover, thanks to the Marketing modules, it is possible to manage not only the website or E-commerce, but also the lead generation campaigns, where every new lead or sales opportunity is automatically registered in the CRM.
Do you need further informations? Contact us.